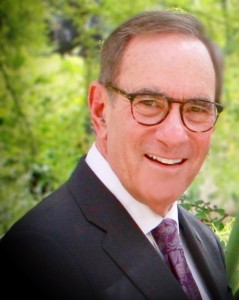 Michael R. Mantell earned his Ph.D. at the University of Pennsylvania and his M.S. at Hahnemann Medical College, where he wrote his thesis on the psychological aspects of obesity.
His career includes serving as the Chief Psychologist for Children's Hospital in San Diego, and was the founding Chief Psychologist for the San Diego Police Department, where he led that department for more than a decade. He served on the faculty of UCSD's School of Medicine, Dept. of Psychiatry, and as a Senior Executive Organizational Leadership Consultant for many top-tier companies in the US and abroad. After more than 40 years of diagnosing and treating individuals and couples with mental illness as a clinical psychologist, he fully retired from his clinical practice—and as he describes, is now "reFired" and "reWired" as a Transformational Behavioral Coach.
He now provides advanced transformational leadership and behavior agility coaching/mentoring for sustainable strategic outcomes in mindful, values driven and positively adaptive ways to business leaders, entrepreneurs, athletes, couples, individuals, families and organizations to reach breakthrough levels of success and significance in their professional and personal lives. He focuses on five key functions of human performance: agility, coordination, endurance, balance and strength for optimal interpersonal fitness in his highly personalized programs crafted to radically improve health and happiness. Dr. Mantell has been a consultant to human resource professionals throughout his career and continues to do so to help organizations advance human relations and productivity in safe optimal ways, with those committed to continuous learning, self-improvement and being agents of change.
Michael is the Director of Transformational Behavior Coaching for the Premier Fitness Camp at Omni La Costa where he delivers curated best-in-class tools, resources, and content for lasting and meaningful behavior change, the foundation of a lifetime of well-being. He is a member of the Scientific Advisory Board of the International Council on Active Aging and served as the first Senior Consultant for Behavioral Sciences for the American Council on Exercise, for whom he gave the visionary keynote address, "The Pathway to The Future: Coaching, Not Training," helped develop and author the ACE Health Coach Certification and the ACE Behavior Change Specialist Certification. He travels the world speaking with fitness and health professionals to provide the most current thinking and tools for individual, couple and organizational behavior change.
He has been a member of SAG/AFTRA since 1981, having appeared regularly for a decade on Good Morning America, as well as numerous talk shows including Oprah, the Today Show, Larry King, and weekly appearances on numerous TV and radio news programs.
Michael is an Organizational Advisor to Fitwall, Rock My Run and speaks for Rancho La Puerta, the Asia Fitness Convention in Bangkok, in addition to numerous other fitness-health organizations throughout the nation. He is interviewed frequently by fitness and health magazines including Details Magazine, Men's Health USA and UK, Women's Health US and UK, Weight Watchers, Shape, Natural Health, Real Simple, Women's World, MetRx, Better Homes and Gardens and a host of others in the healthy relationship/optimal health/wellness/fitness world. He has written and spoken for the International Council on Active Aging, the Medical Fitness Association, Athletic Business, IHRSA, IDEA, and a host of other professional organizations in the health and fitness fields. He has been a keynote speaker/presenter for the University of California's FitCon, UCLA's "Stress Less Week," and UC-Irvine's "Building Healthy Academic Communities."
His high-echelon clients have included, McDonald's Corp., Qualcomm, amSTATZ, AAFA, Callaway Golf, Amtrak, JC Penney, Hitachi, US Postal Service, Wawanesa Insurance, McDonald-Douglas, Alliance Pharmaceutical, Watson Pharmaceutical, American Council on Exercise, Total Gym Co., Illinois Parks and Recreation, Fitwall, Ardea/Astra-Zeneca, Los Angeles Times, Association of Government Accountants, American Society of Civil Engineers, Home Federal Bank, and numerous others,
He is a best-selling author of three books including the 25th Anniversary updated edition of his 1988 original "Don't Sweat the Small Stuff, P.S. It's All Small Stuff," and his 1996, "Ticking Bombs: Defusing Violence in the Workplace." He is listed in greatist.com's 2013 "The 100 Most Influential People in Health and Fitness." His fourth book is due out soon.